Manage Your Sites With One Portal
As your enterprise business scales, the number of digital properties in your portfolio scales proportionally. Managing all of those properties in one place not only makes sense, but also becomes necessary to ensure your websites and other digital properties stay relevant and strategically viable.
The Tymbrel platform is a constantly evolving content management ecosystem that keeps up with the pace of technology.
Delta4 Digital manages the entire platform internally with a proprietary development team, with weekly updates to the platform and its apps. 
Alongside managing the roll-out of websites as your enterprise grows, you'll need to collect insights into the performance of each site within its key demographics.
Accountability for that data on the Tymbrel platform is easily done by leveraging built-in analytics integrations, and the inherent flexibility of the platform when it comes to integrating with third-party tools will help you capture the data you need.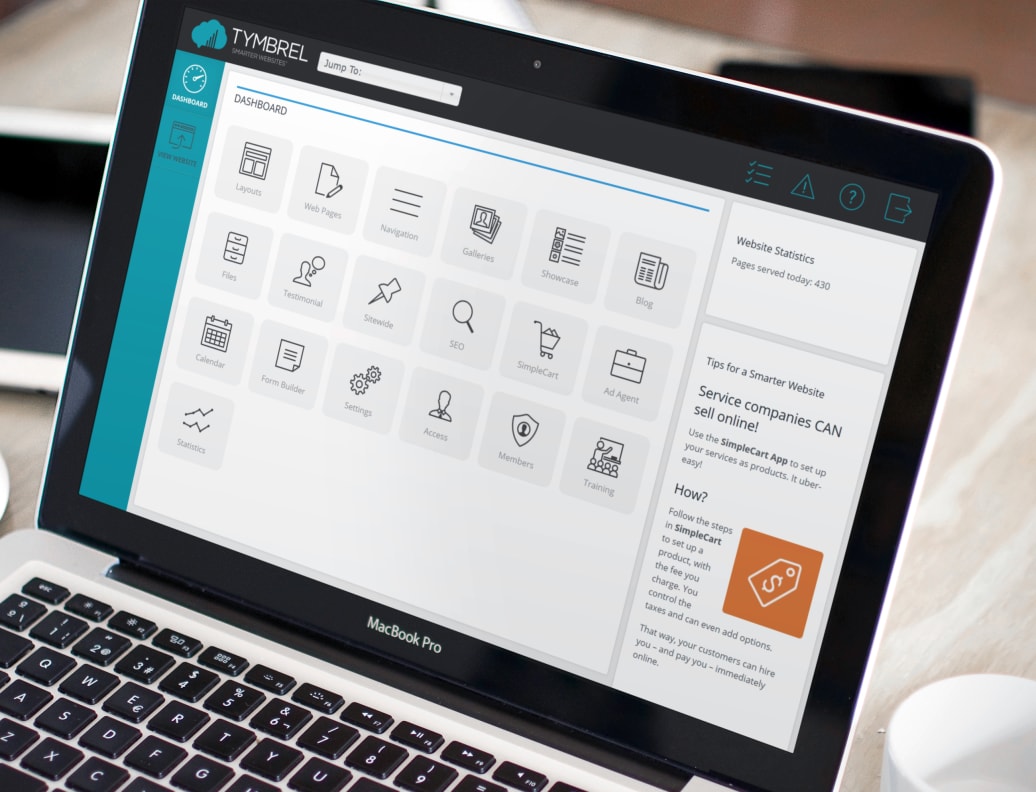 The Foundation For Scaling
Digital properties built on Tymbrel benefit from the inherent advantages provided by a stable, secure, evolving ecosystem.
Secure Hosting
Hosting with Amazon Web Services (AWS), like the world's biggest companies do, means your properties are safe and secure with blazing fast load speeds.
99% Uptime
Hosting with AWS also means your sites will have a 99% uptime with built-in protection from service outages or unforeseen hacking attempts.
Access Control
With flexible account management configurations, you have complete insight and control over who has access to any website property.
Proprietary Technology
As a proprietary Content Management Platform, Tymbrel is designed to continuously and sustainably evolve to meet the changing needs of our clients.
Flexible Functionality, Built Right In
With over 20 built-in applications, you can make unlimited updates without the need for third-party plugins and turn your website into a marketing machine.
Layout Manager
The layout manager provides access to customize presentation and design.
Web Pages
Add, edit and update unlimited web pages with built-in SEO tools.
Navigation
Customize your website's navigation with fast drag-and-drop controls.
Showcase
Showcase your products, services, or portfolios elegantly and professionally.
Blog
Start a company blog with built-in SEO, social share buttons, and optional visitor commenting.
Files
Easily manage image & PDF files with drag-and-drop upload and image resizing and renaming tools.
Testimonial
Post client testimonials with this simple App, and share them anywhere on your website.
Sitewide
Easily post key marketing content to display consistently on pages throughout your website.
SEO Tools
Get found on Google, Yahoo, and Bing. Set your target keywords and analyze the competition.
Form Builder
Build custom forms, surveys, and more with a built-in drag and drop form builder.
eCommerce
Sell products (including digital) or services online, with payment by credit card or PayPal.
Sliders
Carefully tailor rotating marketing messages in key areas of your site for maximum impact.
Ad Agent
Post ads or create promotions with built-in click tracking and an impression counter.
Photo Gallery
Create beautiful, custom photo galleries easily with the drag-and-drop uploader.
Calendar
Create calendars to promote different events or important dates throughout the year.
News
Share your latest press releases or news clips succinctly and professionally.
Settings
Customize your Google settings, email type, contact form auto-messaging and more, in seconds.
Access
Provide access to others with this user-permissions App. Easily define which users can access specific Apps.
Members
Create members-only areas, sell subscriptions, and provide visitors with unique login credentials.
Training
Access step-by-step training videos on how to make the most of the Apps found on your Dashboard.
Interested in learning more?
If our pragmatic, strategic approach to designing digital marketing and communications tools interests you, we'd love to talk.